The official address for the BCLS is 111 East Taylor Street, Phoenix, AZ 85004. The main entrance to the building is located off 1st Street between Taylor and Polk.
Parking at the Arizona State University Downtown Phoenix Campus is extraordinarily limited. Cost and location of visitor parking varies daily and is contingent upon event timing, number of attendees, and the volume of classes and events taking place on any given day. There are three (3) options for parking. Please see the table to decide what is best for your event.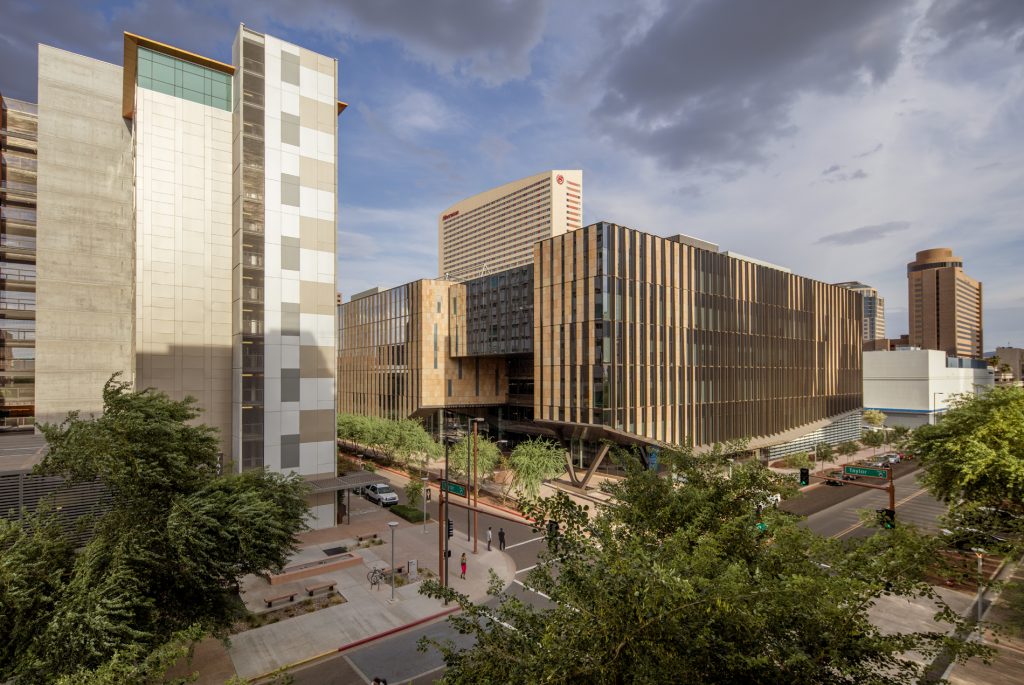 Parking meters
There are parking meters surrounding all sides of the building as well as the surrounding blocks. These are perfect for any events that will be four (4) hours or less
$1.50/hour at a max of two hours
200 EVB parking, also known as AZ Republic Parking garage
Located on the East side of the building right next to the Sheraton. Perfect for all day events and right across the street from our building.
$16/day
UCentii Parking Lot

This lot is located about a five minute walk from our building. It is subject to availability upon ASU Downtown Parking. Please work with your coordinator on this.

An attendant must be reserved through them for an hourly fee
This lot guarantees 30 spaces.
It is used to provide "free" parking to guests as parking validations can be purchased

Parking validations can be purchased from the Parking and Transit Office located in the University Center Building, suite #116. University Center is located just across the street to the west of BCLS.
Fire Safety
All events must adhere to the University's Fire Safety Policy. An event can be interrupted or possibly canceled should fire safety violations exist. Event venues must have clearly identified fire exits and occupancy limits must be enforced. Should a fire alarm sound, house lights will be turned up, if necessary, and all participants will be instructed to leave the area or to respond as directed by fire safety or fire department personnel.
Smoking
ASU is a tobacco-free campus. Smoking, e-cigarettes, vape pens, and illegal drugs of any kind are prohibited in all campus facilities.
Decorations
The BCLS recognizes the need for organizations and individuals to decorate campus facilities for events and activities. Please submit all decorating plans to your event coordinator at least 14 days prior to the event for approval. When developing plans for decoration, the following must be adhered to in all campus facilities:
No painting or spray-painting in the facility or on campus grounds at any time.
Duct tape, thumbtacks, or any other strong adhesive is not allowed on any surface in the facilities. You may see a couple of signs around the facility regarding safety or trash put up by ASU, the Fire Safety Marshall and/or Police Department. These are the only exceptions. Do not nail or pin anything into walls, floors or ceilings. If you need to tape anything to the walls, please make sure that it is painter's tape.
All materials must be cleaned up and removed completely upon event conclusion. Any damage to the space caused by the client will be billed directly to their organization.
No glitter or confetti is allowed in any event space. The use of glitter will result in an automatic cleaning fee.
Client is not permitted to alter the space in any way – i.e. removing or relocating plants, art, or installations that are fixtures in the space.
Client should not stand on furniture, including chairs and/or tables.
Groups should not drag furniture across the floor. Either lift or ask for assistance from event staff.
Fire Exit Signs cannot be covered under any circumstances.
Exit and Entrance doors as well as hallways and walkways cannot be blocked under any circumstances.
All cords and cables must be taped down.
No use of fire or flame can be used with the exception of catering needs by an ASU Approved Catering Vendor.